1. Computer network
The nodes of a computer network may include personal computers, servers, networking hardware, or other specialised or general-purpose hosts. They are identified by network addresses, and may have hostnames. Hostnames serve as memorable labels for the nodes, rarely changed after initial assignment. Network addresses serve for locating and identifying the nodes by communication protocols such as the Internet Protocol.
1.1. Network Packet
1.2. Network Topology
Network topology is the layout, pattern, or organizational hierarchy of the interconnection of network hosts, in contrast to their physical or geographic location. Typically, most diagrams describing networks are arranged by their topology. The network topology can affect throughput, but reliability is often more critical. With many technologies, such as bus or star networks, a single failure can cause the network to fail entirely. In general, the more interconnections there are, the more robust the network is; but the more expensive it is to install.
Figure 1. Common network topologies
The physical layout of the nodes in a network may not necessarily reflect the network topology. As an example, with FDDI, the network topology is a ring, but the physical topology is often a star, because all neighboring connections can be routed via a central physical location. Physical layout is not completely irrelevant, however, as common ducting and equipment locations can represent single points of failure due to issues like fires, power failures and flooding.
1.3. Overlay network
Figure 2. A sample overlay network
An overlay network is a virtual network that is built on top of another network. Nodes in the overlay network are connected by virtual or logical links. Each link corresponds to a path, perhaps through many physical links, in the underlying network. The topology of the overlay network may (and often does) differ from that of the underlying one. For example, many peer-to-peer networks are overlay networks. They are organized as nodes of a virtual system of links that run on top of the Internet.
Overlay networks have been around since the invention of networking when computer systems were connected over telephone lines using modems, before any data network existed.
The most striking example of an overlay network is the Internet itself. The Internet itself was initially built as an overlay on the telephone network. Even today, each Internet node can communicate with virtually any other through an underlying mesh of sub-networks of wildly different topologies and technologies. Address resolution and routing are the means that allow mapping of a fully connected IP overlay network to its underlying network.
Another example of an overlay network is a distributed hash table, which maps keys to nodes in the network. In this case, the underlying network is an IP network, and the overlay network is a table (actually a map) indexed by keys.
Overlay networks have also been proposed as a way to improve Internet routing, such as through quality of service guarantees achieve higher-quality streaming media. Previous proposals such as IntServ, DiffServ, and IP Multicast have not seen wide acceptance largely because they require modification of all routers in the network. On the other hand, an overlay network can be incrementally deployed on end-hosts running the overlay protocol software, without cooperation from Internet service providers. The overlay network has no control over how packets are routed in the underlying network between two overlay nodes, but it can control, for example, the sequence of overlay nodes that a message traverses before it reaches its destination.
For example, Akamai Technologies manages an overlay network that provides reliable, efficient content delivery (a kind of multicast). Academic research includes end system multicast, resilient routing and quality of service studies, among others.
1.4. Network Links
The transmission media (often referred to in the literature as the physical medium) used to link devices to form a computer network include electrical cable, optical fiber, and free space. In the OSI model, the software to handle the media is defined at layers 1 and 2 — the physical layer and the data link layer.
1.4.1. Wired
The following classes of wired technologies are used in computer networking.
1.4.2. Wireless
Network connections can be established wirelessly using radio or other electromagnetic means of communication.
The last two cases have a large round-trip delay time, which gives slow two-way communication but doesn't prevent sending large amounts of information (they can have high throughput).
1.5. Network Nodes
1.5.1. Network interfaces
A network interface controller (NIC) is computer hardware that connects the computer to the network media and has the ability to process low-level network information. For example, the NIC may have a connector for accepting a cable, or an aerial for wireless transmission and reception, and the associated circuitry.
In Ethernet networks, each network interface controller has a unique Media Access Control (MAC) address—usually stored in the controller's permanent memory. To avoid address conflicts between network devices, the Institute of Electrical and Electronics Engineers (IEEE) maintains and administers MAC address uniqueness. The size of an Ethernet MAC address is six octets. The three most significant octets are reserved to identify NIC manufacturers. These manufacturers, using only their assigned prefixes, uniquely assign the three least-significant octets of every Ethernet interface they produce.
1.5.2. Repeaters and hubs
A repeater is an electronic device that receives a network signal, cleans it of unnecessary noise and regenerates it. The signal is retransmitted at a higher power level, or to the other side of obstruction so that the signal can cover longer distances without degradation. In most twisted pair Ethernet configurations, repeaters are required for cable that runs longer than 100 meters. With fiber optics, repeaters can be tens or even hundreds of kilometers apart.
Repeaters work on the physical layer of the OSI model but still require a small amount of time to regenerate the signal. This can cause a propagation delay that affects network performance and may affect proper function. As a result, many network architectures limit the number of repeaters used in a network, e.g., the Ethernet 5-4-3 rule.
An Ethernet repeater with multiple ports is known as an Ethernet hub. In addition to reconditioning and distributing network signals, a repeater hub assists with collision detection and fault isolation for the network. Hubs and repeaters in LANs have been largely obsoleted by modern network switches.
1.5.3. Bridges and switches
Network bridges and network switches are distinct from a hub in that they only forward frames to the ports involved in the communication whereas a hub forwards to all ports. Bridges only have two ports but a switch can be thought of as a multi-port bridge. Switches normally have numerous ports, facilitating a star topology for devices, and for cascading additional switches.
Bridges and switches operate at the data link layer (layer 2) of the OSI model and bridge traffic between two or more network segments to form a single local network. Both are devices that forward frames of data between ports based on the destination MAC address in each frame. They learn the association of physical ports to MAC addresses by examining the source addresses of received frames and only forward the frame when necessary. If an unknown destination MAC is targeted, the device broadcasts the request to all ports except the source, and discovers the location from the reply.
Bridges and switches divide the network's collision domain but maintain a single broadcast domain. Network segmentation through bridging and switching helps break down a large, congested network into an aggregation of smaller, more efficient networks.
1.5.4. Routers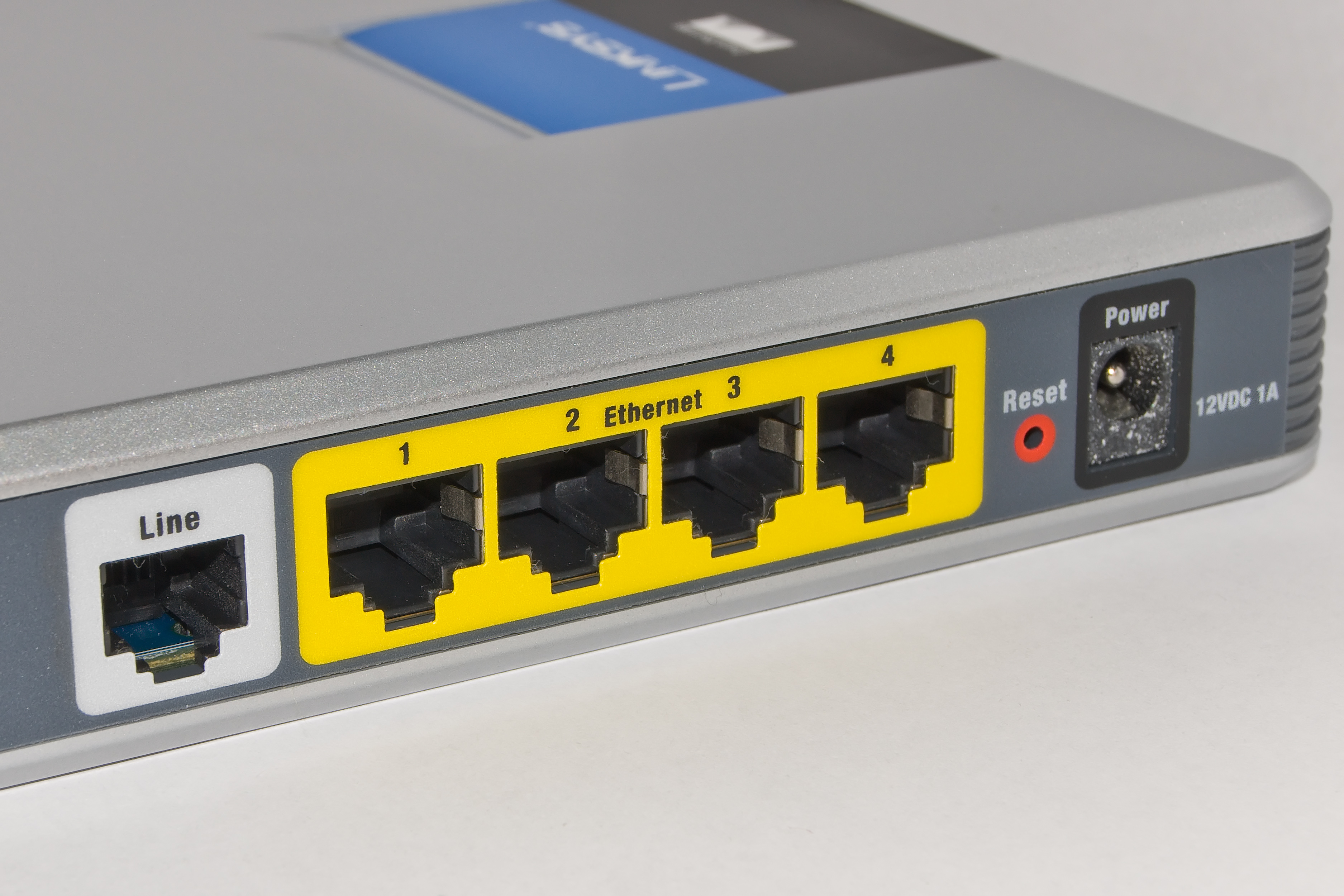 Figure 3. A typical home or small office router showing the ADSL telephone line and Ethernet network cable connections
A router is an internetworking device that forwards packets between networks by processing the addressing or routing information included in the packet. The routing information is often processed in conjunction with the routing table. A router uses its routing table to determine where to forward packets and does not require broadcasting packets which is inefficient for very big networks.
1.5.5. Modems
Modems (modulator-demodulator) are used to connect network nodes via wire not originally designed for digital network traffic, or for wireless. To do this one or more carrier signals are modulated by the digital signal to produce an analog signal that can be tailored to give the required properties for transmission. Early modems modulated audio signals sent over a standard voice telephone line. Modems are still commonly used for telephone lines, using a digital subscriber line technology and cable television systems using DOCSIS technology.
1.5.6. Firewalls
A firewall is a network device or software for controlling network security and access rules. Firewalls are inserted in connections between secure internal networks and potentially insecure external networks such as the Internet. Firewalls are typically configured to reject access requests from unrecognized sources while allowing actions from recognized ones. The vital role firewalls play in network security grows in parallel with the constant increase in cyber attacks.
1.6. Communication protocols
In a protocol stack, often constructed per the OSI model, communications functions are divided up into protocol layers, where each layer leverages the services of the layer below it until the lowest layer controls the hardware that sends information across the media. The use of protocol layering is ubiquitous across the field of computer networking. An important example of a protocol stack is HTTP (the World Wide Web protocol) running over TCP over IP (the Internet protocols) over IEEE 802.11 (the Wi-Fi protocol). This stack is used between the wireless router and the home user's personal computer when the user is surfing the web.
Figure 4. The TCP/IP model and its relation to common protocols used at different layers of the model.
There are many communication protocols, a few of which are described below.
1.6.1. Common protocols
1.6.2. Routing
In packet-switched networks, routing protocols direct packet forwarding (the transit of logically addressed network packets from their source toward their ultimate destination) through intermediate nodes. Intermediate nodes are typically network hardware devices such as routers, bridges, gateways, firewalls, or switches. General-purpose computers can also forward packets and perform routing, though they are not specialized hardware and may suffer from the limited performance. The routing process usually directs forwarding on the basis of routing tables, which maintain a record of the routes to various network destinations. Thus, constructing routing tables, which are held in the router's memory, is very important for efficient routing.
There are usually multiple routes that can be taken, and to choose between them, different elements can be considered to decide which routes get installed into the routing table, such as (sorted by priority):
Prefix-Length: where longer subnet masks are preferred (independent if it is within a routing protocol or over a different routing protocol)

Metric: where a lower metric/cost is preferred (only valid within one and the same routing protocol)

Administrative distance: where a lower distance is preferred (only valid between different routing protocols)
Most routing algorithms use only one network path at a time. Multipath routing techniques enable the use of multiple alternative paths.
Routing, in a more narrow sense of the term, is often contrasted with bridging in its assumption that network addresses are structured and that similar addresses imply proximity within the network. Structured addresses allow a single routing table entry to represent the route to a group of devices. In large networks, structured addressing (routing, in the narrow sense) outperforms unstructured addressing (bridging). Routing has become the dominant form of addressing on the Internet. Bridging is still widely used within localized environments.
1.7. Geographic Scale
Networks may be characterized by many properties or features, such as physical capacity, organizational purpose, user authorization, access rights, and others. Another distinct classification method is that of the physical extent or geographic scale.
Figure 5. Computer network types by spatial scope
1.7.1. Nanoscale network
A nanoscale communication network has key components implemented at the nanoscale including message carriers and leverages physical principles that differ from macroscale communication mechanisms. Nanoscale communication extends communication to very small sensors and actuators such as those found in biological systems and also tends to operate in environments that would be too harsh for classical communication.
1.7.2. Personal area network
A personal area network (PAN) is a computer network used for communication among computers and different information technological devices close to one person. Some examples of devices that are used in a PAN are personal computers, printers, fax machines, telephones, PDAs, scanners, and even video game consoles. A PAN may include wired and wireless devices. The reach of a PAN typically extends to 10 meters. A wired PAN is usually constructed with USB and FireWire connections while technologies such as Bluetooth and infrared communication typically form a wireless PAN.
1.7.3. Local area network
A local area network (LAN) is a network that connects computers and devices in a limited geographical area such as a home, school, office building, or closely positioned group of buildings. Each computer or device on the network is a node. Wired LANs are most likely based on Ethernet technology. Newer standards such as ITU-T G.hn also provide a way to create a wired LAN using existing wiring, such as coaxial cables, telephone lines, and power lines.
The defining characteristics of a LAN, in contrast to a wide area network (WAN), include higher data transfer rates, limited geographic range, and lack of reliance on leased lines to provide connectivity. Current Ethernet or other IEEE 802.3 LAN technologies operate at data transfer rates up to 100 Gbit/s, standardized by IEEE in 2010. Currently, 400 Gbit/s Ethernet is being developed.
A LAN can be connected to a WAN using a router.
1.7.4. Home area network
A home area network (HAN) is a residential LAN used for communication between digital devices typically deployed in the home, usually a small number of personal computers and accessories, such as printers and mobile computing devices. An important function is the sharing of Internet access, often a broadband service through a cable TV or digital subscriber line (DSL) provider.
1.7.5. Storage area network
A storage area network (SAN) is a dedicated network that provides access to consolidated, block-level data storage. SANs are primarily used to make storage devices, such as disk arrays, tape libraries, and optical jukeboxes, accessible to servers so that the devices appear like locally attached devices to the operating system. A SAN typically has its own network of storage devices that are generally not accessible through the local area network by other devices. The cost and complexity of SANs dropped in the early 2000s to levels allowing wider adoption across both enterprise and small to medium-sized business environments.
1.7.6. Campus area network
A campus area network (CAN) is made up of an interconnection of LANs within a limited geographical area. The networking equipment (switches, routers) and transmission media (optical fiber, copper plant, Cat5 cabling, etc.) are almost entirely owned by the campus tenant/owner (an enterprise, university, government, etc.).
For example, a university campus network is likely to link a variety of campus buildings to connect academic colleges or departments, the library, and student residence halls.
1.7.7. Backbone network
A backbone network is part of a computer network infrastructure that provides a path for the exchange of information between different LANs or subnetworks. A backbone can tie together diverse networks within the same building, across different buildings, or over a wide area.
For example, a large company might implement a backbone network to connect departments that are located around the world. The equipment that ties together the departmental networks constitutes the network backbone. When designing a network backbone, network performance and network congestion are critical factors to take into account. Normally, the backbone network's capacity is greater than that of the individual networks connected to it.
Another example of a backbone network is the Internet backbone, which is a massive, global system of fiber-optic cable and optical networking that carry the bulk of data between wide area networks (WANs), metro, regional, national and transoceanic networks.
1.7.8. Metropolitan area network
1.7.9. Wide area network
A wide area network (WAN) is a computer network that covers a large geographic area such as a city, country, or spans even intercontinental distances. A WAN uses a communications channel that combines many types of media such as telephone lines, cables, and airwaves. A WAN often makes use of transmission facilities provided by common carriers, such as telephone companies. WAN technologies generally function at the lower three layers of the OSI reference model: the physical layer, the data link layer, and the network layer.
1.7.10. Enterprise private network
An enterprise private network is a network that a single organization builds to interconnect its office locations (e.g., production sites, head offices, remote offices, shops) so they can share computer resources.
1.7.11. Virtual private network
A virtual private network (VPN) is an overlay network in which some of the links between nodes are carried by open connections or virtual circuits in some larger network (e.g., the Internet) instead of by physical wires. The data link layer protocols of the virtual network are said to be tunneled through the larger network when this is the case. One common application is secure communications through the public Internet, but a VPN need not have explicit security features, such as authentication or content encryption. VPNs, for example, can be used to separate the traffic of different user communities over an underlying network with strong security features.
VPN may have best-effort performance or may have a defined service level agreement (SLA) between the VPN customer and the VPN service provider. Generally, a VPN has a topology more complex than point-to-point.
1.7.12. Global area network
A global area network (GAN) is a network used for supporting mobile across an arbitrary number of wireless LANs, satellite coverage areas, etc. The key challenge in mobile communications is handing off user communications from one local coverage area to the next. In IEEE Project 802, this involves a succession of terrestrial wireless LANs.
1.8. Organizational scope
Networks are typically managed by the organizations that own them. Private enterprise networks may use a combination of intranets and extranets. They may also provide network access to the Internet, which has no single owner and permits virtually unlimited global connectivity.
1.8.1. Intranet
An intranet is a set of networks that are under the control of a single administrative entity. The intranet uses the IP protocol and IP-based tools such as web browsers and file transfer applications. The administrative entity limits the use of the intranet to its authorized users. Most commonly, an intranet is the internal LAN of an organization. A large intranet typically has at least one web server to provide users with organizational information. An intranet is also anything behind the router on a local area network.
1.8.2. Extranet
An extranet is a network that is also under the administrative control of a single organization but supports a limited connection to a specific external network. For example, an organization may provide access to some aspects of its intranet to share data with its business partners or customers. These other entities are not necessarily trusted from a security standpoint. Network connection to an extranet is often, but not always, implemented via WAN technology.
1.8.3. Internet
An internetwork is the connection of multiple different types of computer networks to form a single computer network by layering on top of the different networking software and connecting them together using routers.
1.8.4. Darknet
A darknet is an overlay network, typically running on the Internet, that is only accessible through specialized software. A darknet is an anonymizing network where connections are made only between trusted peers — sometimes called "friends" (F2F) — using non-standard protocols and ports.
Darknets are distinct from other distributed peer-to-peer networks as sharing is anonymous (that is, IP addresses are not publicly shared), and therefore users can communicate with little fear of governmental or corporate interference.
1.9. Network Service
Network services are applications hosted by servers on a computer network, to provide some functionality for members or users of the network, or to help the network itself to operate.
The World Wide Web, E-mail, printing and network file sharing are examples of well-known network services. Network services such as DNS (Domain Name System) give names for IP and MAC addresses (people remember names like "nm.lan" better than numbers like "210.121.67.18"), and DHCP to ensure that the equipment on the network has a valid IP address.
Services are usually based on a service protocol that defines the format and sequencing of messages between clients and servers of that network service.
1.10. Network Performance
1.11. Security
1.11.1. Network security
Network Security consists of provisions and policies adopted by the network administrator to prevent and monitor unauthorized access, misuse, modification, or denial of the computer network and its network-accessible resources.[53] Network security is the authorization of access to data in a network, which is controlled by the network administrator. Users are assigned an ID and password that allows them access to information and programs within their authority. Network security is used on a variety of computer networks, both public and private, to secure daily transactions and communications among businesses, government agencies, and individuals.
1.11.2. Network surveillance
Network surveillance is the monitoring of data being transferred over computer networks such as the Internet. The monitoring is often done surreptitiously and may be done by or at the behest of governments, by corporations, criminal organizations, or individuals. It may or may not be legal and may or may not require authorization from a court or other independent agency.
Computer and network surveillance programs are widespread today, and almost all Internet traffic is or could potentially be monitored for clues to illegal activity.
Surveillance is very useful to governments and law enforcement to maintain social control, recognize and monitor threats, and prevent/investigate criminal activity. With the advent of programs such as the Total Information Awareness program, technologies such as high-speed surveillance computers and biometrics software, and laws such as the Communications Assistance For Law Enforcement Act, governments now possess an unprecedented ability to monitor the activities of citizens.
However, many civil rights and privacy groups—such as Reporters Without Borders, the Electronic Frontier Foundation, and the American Civil Liberties Union—have expressed concern that increasing surveillance of citizens may lead to a mass surveillance society, with limited political and personal freedoms. Fears such as this have led to numerous lawsuits such as Hepting v. AT&T. The hacktivist group Anonymous has hacked into government websites in protest of what it considers "draconian surveillance".
1.11.3. End to end encryption
1.11.4. SSL/TLS
The introduction and rapid growth of e-commerce on the World Wide Web in the mid-1990s made it obvious that some form of authentication and encryption was needed. Netscape took the first shot at a new standard. At the time, the dominant web browser was Netscape Navigator. Netscape created a standard called secure socket layer (SSL). SSL requires a server with a certificate. When a client requests access to an SSL-secured server, the server sends a copy of the certificate to the client. The SSL client checks this certificate (all web browsers come with an exhaustive list of CA root certificates preloaded), and if the certificate checks out, the server is authenticated and the client negotiates a symmetric-key cipher for use in the session. The session is now in a very secure encrypted tunnel between the SSL server and the SSL client.
2. Internet Protocol Suite (TCP/IP)
The Internet protocol suite, commonly known as TCP/IP, is the set of communications protocols used in the Internet and similar computer networks. The current foundational protocols in the suite are the Transmission Control Protocol (TCP) and the Internet Protocol (IP).
The Internet protocol suite provides end-to-end data communication specifying how data should be packetized, addressed, transmitted, routed, and received. This functionality is organized into four abstraction layers, which classify all related protocols according to each protocol's scope of networking. From lowest to highest, the layers are the link layer, containing communication methods for data that remains within a single network segment (link); the internet layer, providing internetworking between independent networks; the transport layer, handling host-to-host communication; and the application layer, providing process-to-process data exchange for applications.
Figure 6. Conceptual data flow in a simple network topology of two hosts (A and B) connected by a link between their respective routers. The application on each host executes read and write operations as if the processes were directly connected to each other by some kind of data pipe. After establishment of this pipe, most details of the communication are hidden from each process, as the underlying principles of communication are implemented in the lower protocol layers. In analogy, at the transport layer the communication appears as host-to-host, without knowledge of the application data structures and the connecting routers, while at the internetworking layer, individual network boundaries are traversed at each router.
Figure 7. Encapsulation of application data descending through the layers described in RFC 1122
2.1. Link layer
The protocols of the link layer operate within the scope of the local network connection to which a host is attached. This regime is called the link in TCP/IP parlance and is the lowest component layer of the suite. The link includes all hosts accessible without traversing a router. The size of the link is therefore determined by the networking hardware design. In principle, TCP/IP is designed to be hardware independent and may be implemented on top of virtually any link-layer technology. This includes not only hardware implementations, but also virtual link layers such as virtual private networks and networking tunnels.
The link layer is used to move packets between the Internet layer interfaces of two different hosts on the same link. The processes of transmitting and receiving packets on the link can be controlled in the device driver for the network card, as well as in firmware or by specialized chipsets. These perform functions, such as framing, to prepare the Internet layer packets for transmission, and finally transmit the frames to the physical layer and over a transmission medium. The TCP/IP model includes specifications for translating the network addressing methods used in the Internet Protocol to link-layer addresses, such as media access control (MAC) addresses. All other aspects below that level, however, are implicitly assumed to exist, and are not explicitly defined in the TCP/IP model.
The link layer in the TCP/IP model has corresponding functions in Layer 2 of the OSI model.
2.2. Internet layer
Internetworking requires sending data from the source network to the destination network. This process is called routing and is supported by host addressing and identification using the hierarchical IP addressing system. The internet layer provides an unreliable datagram transmission facility between hosts located on potentially different IP networks by forwarding datagrams to an appropriate next-hop router for further relaying to its destination. The internet layer has the responsibility of sending packets across potentially multiple networks. With this functionality, the internet layer makes possible internetworking, the interworking of different IP networks, and it essentially establishes the Internet.
Table 2. IP protocol numbers

| Hex | Protocol Number | Keyword | Protocol |
| --- | --- | --- | --- |
| 0x01 | 1 | ICMP | Internet Control Message Protocol |
| 0x02 | 2 | IGMP | Internet Group Management Protocol |
| 0x06 | 6 | TCP | Transmission Control Protocol |
| 0x11 | 17 | UDP | User Datagram Protocol |
| 0x3A | 58 | IPv6-ICMP | ICMP for IPv6 |
The Internet Protocol is the principal component of the internet layer, and it defines two addressing systems to identify network hosts and to locate them on the network. The original address system of the ARPANET and its successor, the Internet, is Internet Protocol version 4 (IPv4). It uses a 32-bit IP address and is therefore capable of identifying approximately four billion hosts. This limitation was eliminated in 1998 by the standardization of Internet Protocol version 6 (IPv6) which uses 128-bit addresses. IPv6 production implementations emerged in approximately 2006.
The IPv4 address space was originally divided into five classes. Classes A, B, and C were used for assigning addresses to interfaces on hte Internet (unicast addresses) and for some other special-use. The classes are defined by the first bits in the address: 0 for class A, 10 for class B, 110 for class C, and so on. Class D addresses are for multicast use, and class E addresses remain reserved.
Table 3. IPv4 classful addressing

| Class | Leading bits | Net number bits | Host number bits | Address range | Default subnet mask | CIDR notation |
| --- | --- | --- | --- | --- | --- | --- |
| A | 0 | 8 | 24 | 0.0.0.0-127.255.255.255 | 255.0.0.0 | /8 |
| B | 10 | 16 | 16 | 128.0.0.0-191.255.255.255 | 255.255.0.0 | /16 |
| C | 110 | 24 | 8 | 192.0.0.0-223.255.255.255 | 255.255.255.0 | /24 |
| D | 1110 | <undefined> | <undefined> | 224.0.0.0-239.255.255.255 | <undefined> | <undefined> |
| E | 1111 | <undefined> | <undefined> | 240.0.0.0-240.255.255.255 | <undefined> | <undefined> |
2.3. Transport layer
The transport layer establishes basic data channels that applications use for task-specific data exchange. The layer establishes host-to-host connectivity in the form of end-to-end message transfer services that are independent of the underlying network and independent of the structure of user data and the logistics of exchanging information. Connectivity at the transport layer can be categorized as either connection-oriented, implemented in TCP, or connectionless, implemented in UDP. The protocols in this layer may provide error control, segmentation, flow control, congestion control, and application addressing (port numbers).
For the purpose of providing process-specific transmission channels for applications, the layer establishes the concept of the network port. This is a numbered logical construct allocated specifically for each of the communication channels an application needs. For many types of services, these port numbers have been standardized so that client computers may address specific services of a server computer without the involvement of service discovery or directory services.
TCP is a connection-oriented protocol that addresses numerous reliability issues in providing a reliable byte stream:
data arrives in-order

data has minimal error (i.e., correctness)

duplicate data is discarded

lost or discarded packets are resent

includes traffic congestion control
The newer Stream Control Transmission Protocol (SCTP) is also a reliable, connection-oriented transport mechanism. It is message-stream-oriented, not byte-stream-oriented like TCP, and provides multiple streams multiplexed over a single connection. It also provides multihoming support, in which a connection end can be represented by multiple IP addresses (representing multiple physical interfaces), such that if one fails, the connection is not interrupted. It was developed initially for telephony applications (to transport SS7 over IP).
The User Datagram Protocol (UDP) is a connectionless datagram protocol. Like IP, it is a best-effort, unreliable protocol. Reliability is addressed through error detection using a checksum algorithm. UDP is typically used for applications such as streaming media (audio, video, Voice over IP etc.) where on-time arrival is more important than reliability, or for simple query/response applications like DNS lookups, where the overhead of setting up a reliable connection is disproportionately large. Real-time Transport Protocol (RTP) is a datagram protocol that is used over UDP and is designed for real-time data such as streaming media.
The applications at any given network address are distinguished by their TCP or UDP port. By convention, certain well known ports are associated with specific applications.
The TCP/IP model's transport or host-to-host layer corresponds roughly to the fourth layer in the OSI model, also called the transport layer.
2.4. Application layer
The TCP/IP model does not consider the specifics of formatting and presenting data and does not define additional layers between the application and transport layers as in the OSI model (presentation and session layers). According to the TCP/IP model, such functions are the realm of libraries and application programming interfaces. The application layer in the TCP/IP model is often compared to a combination of the fifth (session), sixth (presentation), and seventh (application) layers of the OSI model.
Application layer protocols are often associated with particular client–server applications, and common services have well-known port numbers reserved by the Internet Assigned Numbers Authority (IANA). For example, the HyperText Transfer Protocol uses server port 80 and Telnet uses server port 23. Clients connecting to a service usually use ephemeral ports, i.e., port numbers assigned only for the duration of the transaction at random or from a specific range configured in the application.
At the application layer, the TCP/IP model distinguishes between user protocols and support protocols. Support protocols provide services to a system of network infrastructure. User protocols are used for actual user applications. For example, FTP is a user protocol and DNS is a support protocol.
Although the applications are usually aware of key qualities of the transport layer connection such as the endpoint IP addresses and port numbers, application layer protocols generally treat the transport layer (and lower) protocols as black boxes which provide a stable network connection across which to communicate. The transport layer and lower-level layers are unconcerned with the specifics of application layer protocols. Routers and switches do not typically examine the encapsulated traffic, rather they just provide a conduit for it. However, some firewall and bandwidth throttling applications use deep packet inspection to interpret application data. An example is the Resource Reservation Protocol (RSVP). It is also sometimes necessary for Applications affected by NAT to consider the application payload.